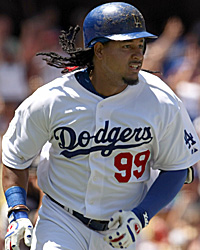 There is such a disparity in this country I can not believe it. As I sit and write this, I continue to live pay check to pay check. I continue to watch my spending and hope that I can make rent next month, however I still find myself lucky to even have a job. Considering the millions of people that are out work, I can not believe what I am reading today from the world of baseball.

Manny Ramirez has turned down ANOTHER million dollar deal from the Dodgers, offer number three in fact from LA.

Ramirez has turned down a $25 million contract for one year with an option for $20 million in 2010. This comes after he turned down a $25 million for just one year with no option and guaranteed two year, $45 million deal.

Huh? This guy is painting himself as the ultimate jack ass.

There are families in this country that are struggling to make payments because of layoffs and people's salary's are being cut or frozen, and Manny is turning down $25 million. I guess $25 million just doesn't buy what it use too, right Manny?

The latest stat is 2.6 million people lost there job in 2008 and already two million in 2009. There are people living on $200 a week from unemployment and this guy is saying $25 mill is not enough.

So when are these million dollar athletes going to start getting pay cuts? When are these high priced corporate executives going to start getting pay cuts? NFL Commissioner Roger Goodell already has taken a pay cut, good for him! Although he still is going to make like $5 million, but at least he took a pay cut.

These pro athletes are something else. If Manny doesn't want to play for that money, don't let him. I would rather pay $12 for a ticket to see some up and coming kid who still has it in the back of his mind that he wants to play for the love of the game and not the almighty dollar.

Forget Manny and forget these million dollar athletes who say their contracts are worth more than the millions of people out there that lost there jobs, or had their contracts bought out at the company they worked for.

He is basically spitting in the face of the American people with his greed and it's a disgrace to baseball and the people of this country.

I could care less if I ever see Manny play again. Good riddance.